Carport Installation By Experienced Technicians!
Star Gate & Fence is your best option for a perfect carport installation in Dallas, Texas. Our skilled technicians have the ability to accomplish installations promptly and proficiently, ensuring that your demands are met. We recognise the significance of precision and speed in this sort of job and will give them high attention.
We promise you will be happy with the results of your carport installation, no matter how simple or intricate it is. For professional carport installation, don't delay any longer and contact Star Gate & Fence!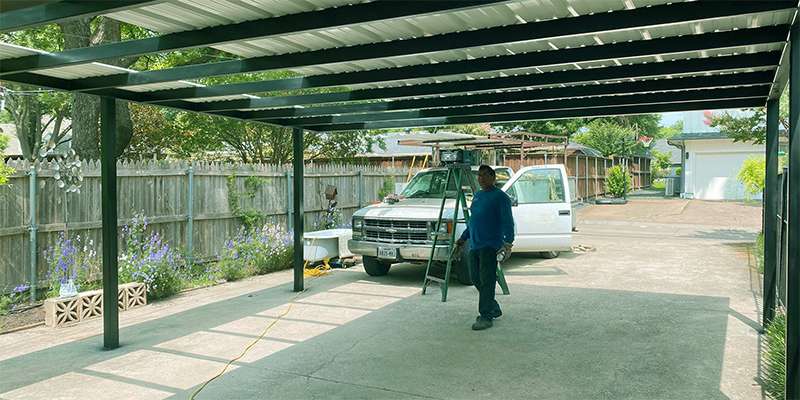 Carport Installation: Solution for Protecting and Accommodating Automobiles!
Carport installation is a practical way to provide parking space for your car, with better protection and more convenience for drivers. You can use carports for parking cars, motorcycles, trucks, and other vehicles. They offer safe and secure spaces where you can park the vehicles off the road and well away from other objects.
Depending on the type of surface and the desired appearance, there are numerous ways to install carports. They are typically made of lightweight materials, such as metal or plastic, so they can easily be transported and installed onsite.
Different sizes and shapes of carports are available to suit your needs. You can also choose from a range of designs that suit your home décor or style preferences. We can provide installation services that are second to none and meet your needs and budget. Contact us today to learn more about our services!
Benefits Of Carport Installation
There are several benefits associated with the installation of a carport, including:
Protection from the Elements: A carport also provides protection from the elements for your vehicle, keeping it free from dirt and debris that could damage it.
Storage: A carport provides ample storage space for your vehicle, allowing you to store items in the back seat or trunk that wouldn't fit in your vehicle otherwise.
Shade and Shelter: A carport can provide shade and shelter for your vehicle during inclement weather, protecting it from rain or sun damage.
Safety: A carport can provide safety benefits for your vehicle as well, providing an area to park that is free of obstacles or hazards that may hinder your ability to park safely.
Additional Living Space: Many carports come with built-in benches or tables that provide additional living space outside of your vehicle.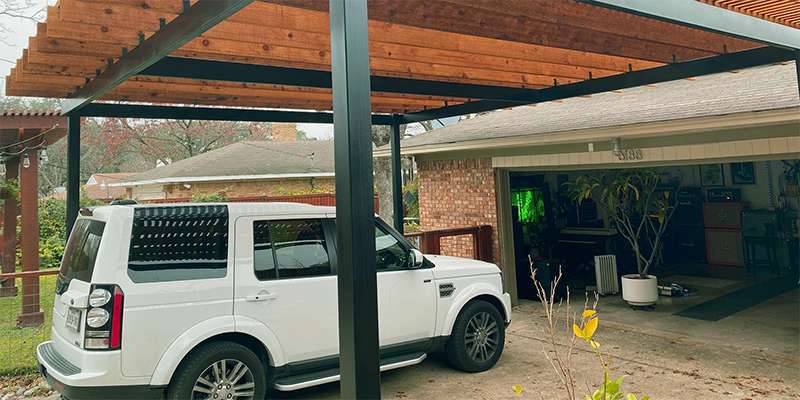 Your Vehicle Deserves To Be Protected, So Have A Professional Install A Metal Carport For You
A metal carport is a temporary shelter built for cars to protect them from harsh weather. The carport protects the cars from rain, wind, and sun but does not provide protection from snow or ice. A metal carport is usually made of steel or aluminum and can include a roof and sides. You can use tar paper to safeguard the carport floor. A metal carport is available in different sizes and can hold up to four cars. It can last for up to 10 years, but you must replace it sooner if it begins to sag or rust.
Metal carports exposed to the elements will rust and corrode over time. If your metal carport is in this condition and you are looking for a way to repair it, look no further than Star Gate & Fence in Dallas, TX. Our team of technicians specializes in metal carports and can fix all types of problems, so you won't have to worry about weather-damaged carports for long. Contact us today for an estimate and let us show you why we are the industry's most trusted metal carport repair provider.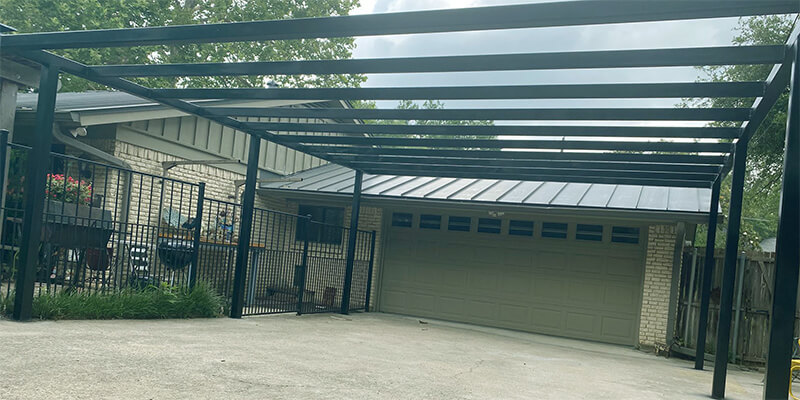 Install A Commercial Carport With The Help Of Our Skilled Technicians
To accommodate company-branded or employee-driven vehicles, many indoor parking garages now feature metal carport installations on their roofs. The carport structure is typically made of steel and is supported by metal poles that are bolted to the roof. The poles support the weight of the metal carport structure and direct the load to the members underneath. To allow employees to temporarily park their personal vehicles on the property, businesses frequently install commercial carports.
A commercial carport installation is most suitable for small businesses, such as restaurants, convenience stores, beauty salons, or marts. The cost of a commercial carport installation varies based on several factors, including the size and type of structure required, the number of joints required in the metal poles, and the materials used in construction.

Geri W.
Eli has consistently provided outstanding service. They are easy to get a hold of, responsive and courteous.

Chanel O.
I recently moved to Dallas and purchased a home in north Dallas. The gate needed to be repaired. I read very many reviews for so many companies and had 3 companies come give me an estimate which all were very over priced. I found this company and decided to have them come out for an estimate. I was sold right away. They were great. Knew what the issue was and weren't over priced which seemed to be the case with all the other companies I had called. The job was done within 2 hrs and I will use them again if ever needed.

Ben A.
This company is great. Very responsive and punctual. The gears for our electric gate were terribly jammed with a towel that was left on the chain. Ben did a great job explaining the work that would be necessary to resolve the situation at hand, and even performed additional maintenance on the entire system. I'll be using them for annual preventative maintenance moving forward and would recommend the same to anyone with their own residential electric gate.

Sylvia A.
After a horrible encounter with a previous gate company, we called Star Gate & Fence to come out and look at the crap job the previous company did. Our gate was considered kaput and we thought we were going to have to spend thousands from what the previous company had said, but it turns out it wasn't the circuit board at all. The battery needed to be replaced! Elijah was very thorough and straightforward at the same time and we really appreciated it. We might have to replace the gate arm in the future, which will be a pretty hefty expense, but it will be worth it knowing that Elijah's team would be taking care of it. Thank goodness we found them.

Rebecca O.
Star Gate & Fence was able to set a timely appointment and I didn't have to wait 3-4 days like the other 2 companies I called. Eli was very nice on the phone and in person. The gate started working as soon as Eli arrived and he said he was happy for me that it started working and didn't charge a trip fee for coming out. They are now the only gate company in my contacts for the next time the gate acts up. As they always do! 🙂

Stephen D.
Eli is outstanding. When our gate broke for the umpteen time, I finally broke down and had to call a professional. Naturally, I went to Yelp. His tech was out there the following day and replaced a broken board for the gate. A month later, I noticed that the gate didn't work again and was concerned. It had rained really hard the previous two days and I called Eli. He quickly responded and came out as soon as he could to check it himself. They warranty all their work. After checking the gate and a hard reset of the system (disconnecting batteries from terminals) the gate worked again. I was impressed with his demeanor and his professionalism. Definitely have my gate guy for life!
Star Gate & Fence is the Way to Go for Carport Installation!
For carport installation, Star Gate & Fence is the way to go in Dallas, TX. We offer a competitive rate and dependable workmanship on commercial and residential carport installations and repairs thanks to our years of experience in the industry. From start to finish, our expert team will provide you with the highest quality service possible, considering every aspect of your carport project with great care.
Moreover, we are experts in carport repairs and can bring your older carports up to current standards, thereby enhancing their safety and longevity. Let us take the hassle out of carport projects so you can focus on running your business!
Carport Installation - FAQs